Whoa, hold on to your seats, basketball fans! The excitement just got multiplied with the latest development in the Philippine Basketball Association (PBA). Brace yourselves for a whole new level of thrill and entertainment as ArenaPlus, the newest online entertainment offering of Total Gamezone Xtreme Incorporated (TGXI), signed a sponsorship deal with the PBA, Asia's first-ever professional basketball league.
ArenaPlus is now the Official Sports Entertainment Gateway of the PBA, and it aims to take PBA fans' entertainment experience to the next level with more fun, excitement, and deep involvement. With a multiple-year sponsorship, ArenaPlus will have brand presence not only in playing venues of regular PBA 5×5 games but also in PBA3x3 games and special events like the PBA Draft, All-Star Week, Media Day, and the PBA On Tour, among others. The brand will also have a solid presence in the league's social media accounts and digital platforms.
What's more, the signing ceremony held in early April at the PBA Office in Quezon City made the announcement of ArenaPlus' first-ever athlete endorser, none other than popular Brgy. Ginebra San Miguel shooting guard Scottie Thompson. Known for his exciting brand of play and huge impact on the fans, Thompson was selected by the brand to add more excitement and level up the fun and entertainment of the PBA.
Thompson's impressive list of accolades, including the Best Player of the 2021 PBA Governor's Cup Conference and Mythical Team Member, justifies his selection as ArenaPlus' athlete endorser. Moreover, Thompson's recognition as the Second Best Player in the 2022-23 PBA Commissioners' Cup on January 2023 further solidifies his position as one of the PBA's most sought-after players.
This partnership is a significant milestone for the PBA, and the signing ceremony was attended by PBA Commissioner Willie Marcial, PBA Marketing Director Jo Francisco, DigiPlus President Andy Tsui, and TGXI President Jasper Vicencio.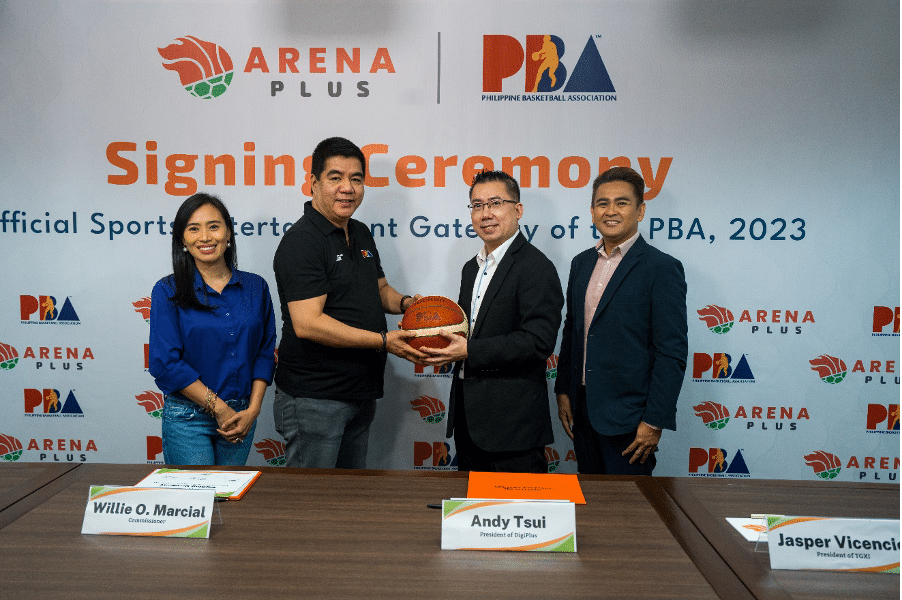 TGXI President Jasper Vicencio expressed his excitement and eagerness to introduce ArenaPlus to PBA and Filipino fans, and he believes that ArenaPlus can bring more fun and entertainment to the viewing experience. DigiPlus President Andy Tsui, on the other hand, expressed his gratitude to the PBA for allowing DigiPlus to introduce its new brand and assured continued support for this source of great entertainment for Filipinos.
So, what are you waiting for? Get ready to immerse yourself in the ultimate basketball experience with ArenaPlus!