Hey, you fitness and outdoors enthusiasts! You've been hollering for it and now it's back! The spectacular Vermosa Estate Green Run is set to return on June 25, bigger, better, and – can you believe it? – even greener than before. Our theme? Simple: "We're Back And Greener Than Ever". So, lace up your running shoes, folks!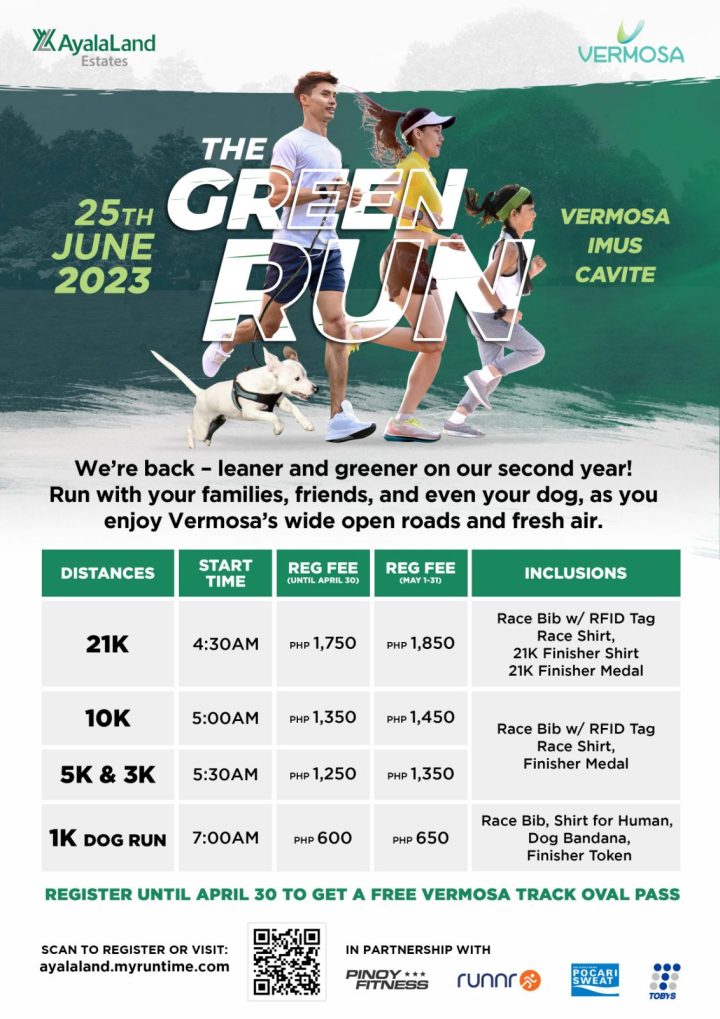 There's nothing quite like celebrating the great outdoors with a heart-pounding run, right? It's all about staying active, healthy and embracing the greener side of life. But hey, this year we're bringing something extra to the party! Calling all dog owners – now you can pound the pavement with your tail-wagging, four-legged BFFs. What better way to bond, get fit and create some priceless memories?
The Vermosa Green Run 2023 isn't just about the newly added 1KM Dog Run. We've got four other thrilling events suited for runners of all stripes. Whether you're a hard-core athlete, a weekend warrior, a fun runner, or a fitness junkie, there's something for everyone. You can test your mettle in the 21K, 10K, 5K, 3K or the 1K Dog Run. And guess what? We've got celebrity runners, dog lovers, and sports heroes lined up to join the fun. Can't wait to see who turns up, can you?
This awesome event is brought to you by Pinoy Fitness, the ace of running, fitness, and multisport events. And, it's not just about having a blast, guys. We're also thinking green. The proceeds of the Run will go straight to Haribon Foundation's Adopt-a-Seedling Program. Let's get together and build a greener future, shall we? Oh, and don't forget to bring your empty plastic bottles. You can recycle them at the Sun Life ReCycle PH machine we'll have on-site and score some cool prizes!
A shout-out to our official non-life insurance partner, FPG Insurance. They're giving all race registrants free group personal accident insurance. How cool is that?
Award-winning journalist and seasoned travel blogger Monch Henares raves about the Green Run, "There's nothing like running in the middle of the lush, 750-hectare Vermosa Estate. It's a feast for the eyes and a boost to your health!" And trust Arabelle Jimenez, lifestyle blogger and fitness buff, when she says the wide pedestrian walkways and winding jogging lanes make running at Vermosa absolutely unforgettable.
Vermosa's GM, the fitness-loving Lani Tan, reveals that hosting the Green Run annually is part of their grand plan. The Estate is all about promoting a sporty, active and healthy lifestyle. And with its state-of-the-art sports hub and world-class facilities, they're taking that commitment to a whole new level.
Moses John Aragones, the man behind Vermosa's project development, explains, "Last year, we re-introduced people to the joys of the outdoors after the pandemic had kept them indoors. Now, we're nudging them to make fitness and wellness a daily habit. The Green Run isn't just about getting fit; it's about de-stressing and giving your immune system a major boost. It's a yearly treat that's good for body, mind, and soul."
Hats off to Pocari Sweat, Milo, Fitbar, and Merrell Shoes for backing this year's Green Run. If you're itching to be part of this, head to Toby's or Runnr stores or visit ayalaland.myruntime.com to sign up. See you there, folks!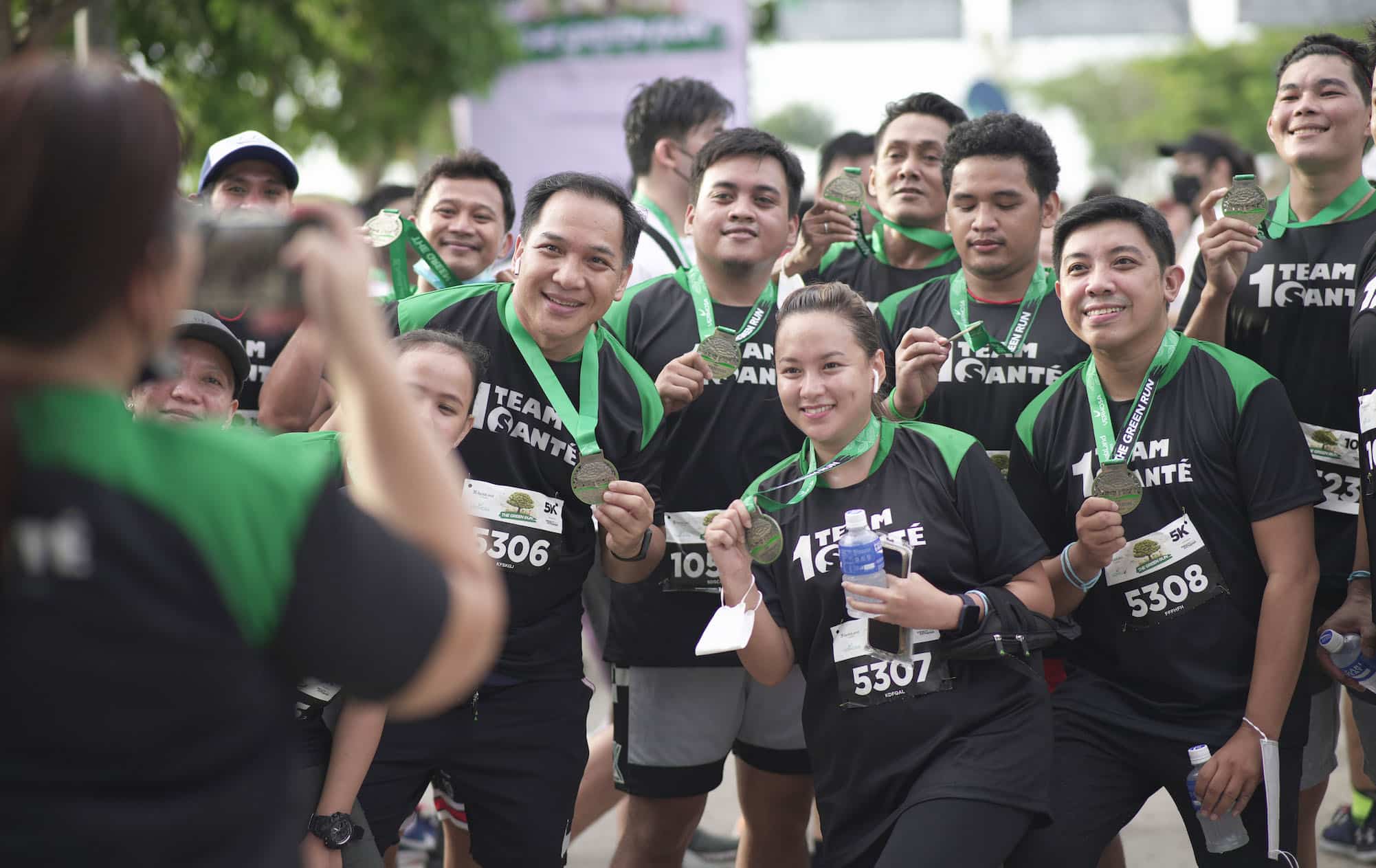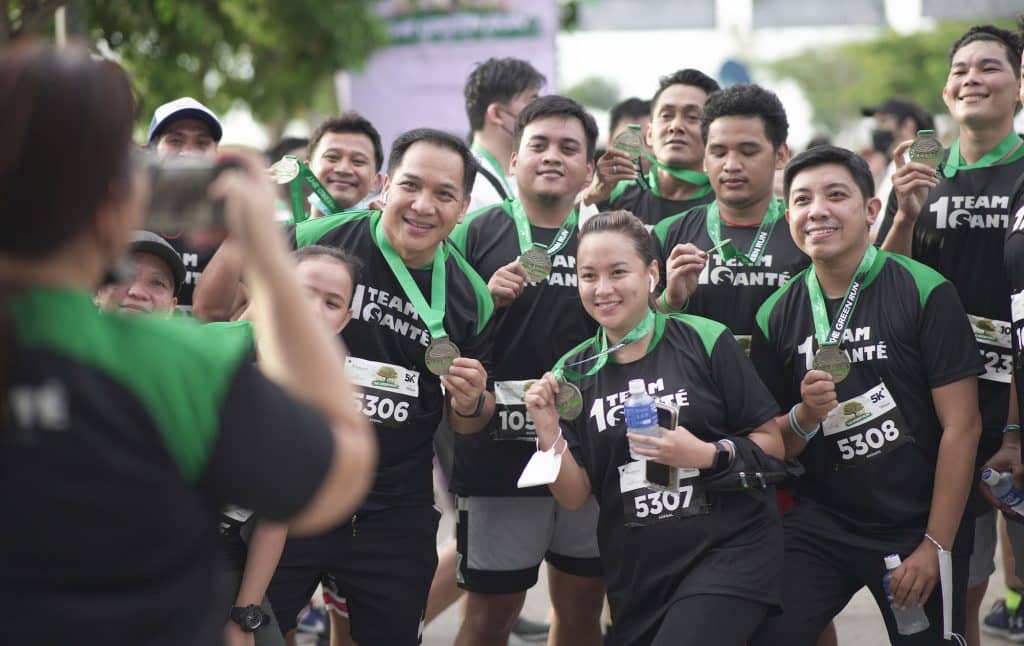 ABOUT VERMOSA
Ayala Vermosa Sports Hub (AVSH) is located within Ayala Land's sprawling 750-hectare estate along Daang Hari Road, Imus, Cavite. It brings together residential, retail, commercial spaces and a school all within the estate. AVSH highlights an active lifestyle by offering athletes a number of sports facilities and wellness amenities including the nine-lane 400-meter track and field oval, football field, Olympic-size lap pool, warm up pool, The Athlete's Lounge, a gym operated by Sante Fitness Lab, and green open spaces. With its state-of-the-art features, AVSH is home to some National Sports Associations and renowned teams in the country.